1:35 GSh-30K fixed twin-barrel gun for the helicopter Mi-24P
September 22, 2015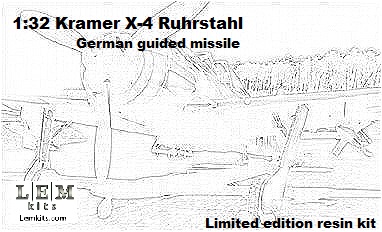 1:32 Kramer X-4 Ruhrstahl – Limited edition resin kit
January 8, 2016
1:32 Focke-Wulf Ta-183 " Huckebein " – Limited edition resin kit
$150.00
1:32 Focke-Wulf Ta-183 " Huckebein " – Limited edition resin kit
Description
1:32 Focke-Wulf Ta-183 " Huckebein " – Limited edition resin kit
1:32  Focke-Wulf  Ta 183 Huckebein – Limited edition resin kit – a project of the German   engineer Hans Multhopp, won the competition for the fighter jet for Luftwaffe .
Constructive solutions and ideas of the aircraft, became the basis for such legendary aircraft F-86 and Mig-15 and practically determined the direction of movement in modern aviation.
The armament of the aircraft was supposed to consist not only of 4x30mm guns,but even guided missiles – Ruhrstahl X-4.
We would like to present a model of the plane on a scale of 1:32.
A model is intended for the advanced collectors of having an experience with resin models.
A set is not completed instruction on assembling 
To build step by step photo instructions included to help you gather this interesting model.
If you have questions about a model  will endeavour to answer on them.
Buyers from Germany, please take into consideration that there may be a time delay in passing customs control in Germany
Käufer aus Deutschland, mögliche Verzögerungen bei der Zollabfertigung in Deutschland
Limited edition resin kit 
<
Only logged in customers who have purchased this product may leave a review.